Posts for: March, 2018
By Jeffrey J. Kraig, DDS, SC
March 30, 2018
If you're in the initial planning stages for a dental implant, you may already be encountering a number of options to consider. One that may come up is how the visible crown will attach to the metal implant imbedded in the bone.
Generally speaking, implants are composed of two parts: a metal post most often made of titanium placed into the bone that serves as the "root" for the new tooth; and a visible, life-like crown made of dental porcelain that attaches to an abutment on the titanium post. The crown can be attached in one of two ways: either with a small screw through the biting surface of the crown into a receiving hole in the abutment or cemented to it.
The major advantage of a screwed crown is that it allows for easy removal of the crown if needed. While the titanium post can often last a lifetime, porcelain crowns more often need repair or replacement since they receive the brunt of the biting forces in the mouth. A screw-attached crown is much easier to remove than a cemented one.
On the other hand, screwed crowns have a small access hole that must be restored with a tooth-colored filling to help the crown appear natural. This isn't too great an issue with back teeth but does make achieving a natural appearance in the front more difficult. Cemented crowns look more like a natural tooth and are thus more flexible in achieving the desired appearance.
Besides the possibility the cement may cause gum inflammation or bone loss, the chief detraction from cemented crowns is the difficulty in removing them. Crowns are often damaged in this process so it's highly likely it will have to be replaced rather than repaired. It's possible to use weaker cement, but this raises the risk of the crown coming loose at some point from the abutment.
As we plan for your implant, we'll discuss which type of attachment will work best for you, depending on the tooth to be replaced and other conditions with your oral health. The end result, though, should be the same — a new, natural-looking tooth that serves you well for many years to come.
If you would like more information on dental implants, please contact us or schedule an appointment for a consultation. You can also learn more about this topic by reading the Dear Doctor magazine article "How Crowns Attach to Implants."
By Jeffrey J. Kraig, DDS, SC
March 15, 2018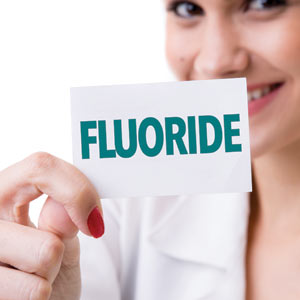 Fluoride is an important weapon in the fight against tooth decay. Fluoride consumption and other applications are especially beneficial during children's dental development for building strong teeth long-term.
But the truism "too much of a good thing" could aptly apply to fluoride. If a child consumes too much fluoride over an extended period of time, it could cause a condition called enamel fluorosis in which the enamel surface develops mottled or streaked staining. It's not harmful to the tooth's health, but it can greatly diminish a person's smile appearance.
To avoid fluorosis, it's important with the help of your dentist to know and regulate as much as possible the amount of fluoride your child receives. Here are 3 fluoride sources you should manage.
Toothpaste. Many manufacturers add fluoride to their toothpaste formula, usually an important way to receive this tooth-strengthening chemical. But younger children tend to swallow more toothpaste than older children or adults. Because the chemical builds up in the body over time, swallowing toothpaste every day could potentially elevate your child's fluoride levels. To avoid this, just use a "smear" of toothpaste on the brush for children under age 2, and a pea-sized amount for older children.
Your water system. About three-quarters of all public water utilities add fluoride to their water as an added measure for tooth decay prevention. The amount can vary from system to system, although the maximum amount recommended by the U.S. Government is 0.70 parts per million (PPM). You can ask your local water system how much fluoride, if any, is present or they add to your drinking water.
Bottled water. Any type of bottled beverage (water, juices, sodas, etc.) could contain various levels of fluoride. Unfortunately there are no labeling requirements regarding its presence, so the most prudent course is to carefully manage the beverages your child drinks, or stay with bottled water marked "de-ionized," "purified," "demineralized" or "distilled," which typically have lower fluoride levels. For babies feeding on milk, you can use the aforementioned bottled waters to mix powder, use ready-to-feed formula (also low in fluoride) or breast-feed.
If you would like more information on fluoride and your baby, please contact us or schedule an appointment for a consultation. You can also learn more about this topic by reading the Dear Doctor magazine article "Tooth Development and Infant Formula."