Posts for: July, 2015
By Jeffrey J. Kraig, DDS, SC
July 16, 2015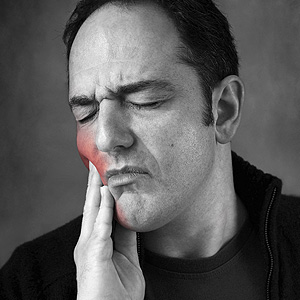 Have you noticed a clicking, popping, or grating sound when you open or close your jaw? As many as 36 million U.S. adults experience this phenomenon in one or both of the joints that connect the lower jaw (mandible) to the skull.
While the sounds may be disconcerting, there's generally no cause for concern in the absence of other symptoms. They're most likely caused by a harmless shift in the position of the disk inside each temporomandibular (jaw) joint, and it can diminish or disappear entirely over time. But, if you're also experiencing persistent discomfort, severe pain, or limited function in your jaw (which can include getting it "stuck" in an opened or closed position), then you may be suffering from a temporomandibular joint disorder — part of a complex set of conditions affecting one or both jaw joints, muscles and/or other surrounding tissues. (You may have heard the condition called TMJ, which is actually the abbreviation for the temporomandibular joint itself. Health care professionals prefer TMJD or TMD.)
Depending on the severity, TMD can interfere with your ability to speak, chew and even make facial expressions. The cause is unclear, but genes, gender, environment, stress and behavior are believed to play a role. It can also be symptomatic of a larger medical problem, such as fibromyalgia, which can produce pain all over the body.
Management Options for TMD
TMD traditionally was viewed as a bite problem (malocclusion) requiring mechanical correction — e.g., through orthodontic braces or surgery. But the current therapeutic model approaches TMD as an orthopedic problem (joint inflammation, muscle soreness, strained tendons and ligaments, and disk damage) and favors a sequence of conservative, reversible procedures — hot or cold compresses in the jaw area, soft foods, physical therapy/massage, medication, and/or a bite guard to decrease pressure on jaw joints from tooth clenching and grinding — prior to more aggressive, irreversible treatment alternatives.
If you would like more information about TMD, please contact us or schedule an appointment for a consultation. You can also learn more about the subject by reading the Dear Doctor magazine articles "Seeking Relief from TMD" and "Chronic Jaw Pain and Associated Conditions."
By Jeffrey J. Kraig, DDS, SC
July 01, 2015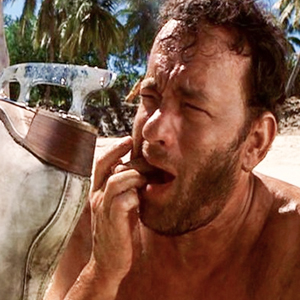 Did you see the move Cast Away starring Tom Hanks? If so, you probably remember the scene where Hanks, stranded on a remote island, knocks out his own abscessed tooth — with an ice skate, no less — to stop the pain. Recently, Dear Doctor TV interviewed Gary Archer, the dental technician who created that special effect and many others.
"They wanted to have an abscess above the tooth with all sorts of gunk and pus and stuff coming out of it," Archer explained. "I met with Tom and I took impressions [of his mouth] and we came up with this wonderful little piece. It just slipped over his own natural teeth." The actor could flick it out with his lower tooth when the time was right during the scene. It ended up looking so real that, as Archer said, "it was not for the easily squeamish!"
That's for sure. But neither is a real abscess, which is an infection that becomes sealed off beneath the gum line. An abscess may result from a trapped piece of food, uncontrolled periodontal (gum) disease, or even an infection deep inside a tooth that has spread to adjacent periodontal tissues. In any case, the condition can cause intense pain due to the pressure that builds up in the pus-filled sac. Prompt treatment is required to relieve the pain, keep the infection from spreading to other areas of the face (or even elsewhere in the body), and prevent tooth loss.
Treatment involves draining the abscess, which usually stops the pain immediately, and then controlling the infection and removing its cause. This may require antibiotics and any of several in-office dental procedures, including gum surgery, a root canal, or a tooth extraction. But if you do have a tooth that can't be saved, we promise we won't remove it with an ice skate!
The best way to prevent an abscess from forming in the first place is to practice conscientious oral hygiene. By brushing your teeth twice each day for two minutes, and flossing at least once a day, you will go a long way towards keeping harmful oral bacteria from thriving in your mouth.
If you have any questions about gum disease or abscesses, please contact us or schedule an appointment for a consultation. You can learn more by reading the Dear Doctor magazine articles "Periodontal (Gum) Abscesses" and "Confusing Tooth Pain."