Posts for: November, 2014
By Jeffrey J. Kraig, DDS, SC
November 26, 2014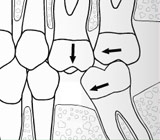 For most people, replacing missing front teeth takes a higher priority over missing back teeth. The reason is obvious: others can see those missing in front, but not necessarily those in the back.
From a functional view, however, you should still consider replacing missing back teeth. Not only will it improve your chewing ability, it may also prevent a chain reaction of negative effects to your remaining teeth.
Teeth are held in place in the jawbone by a membrane called the periodontal ligament. The ligament is a living tissue that allows teeth to move to keep contact with adjacent and opposing teeth as natural wear occurs. When a space is created by a missing tooth, this natural movement accelerates and the teeth may shift beyond normal ranges.
As a result you can encounter excessive mobility of teeth from bite irregularities, uneven tooth wear, bone loss, potential painful problems with the temporo-mandibular joints (connecting the lower jaw to the skull), and a loss in facial height.
There are three basic options for this kind of tooth replacement. The best option is dental implants: these free-standing replacements don't normally affect surrounding teeth, they're easier to clean, and they help support the bite. On the downside, there must be enough remaining bone to support the implant.
The next best option is a fixed bridge. This option only works, however, if there are teeth on either side of the missing tooth space capable of supporting the bridge, and they must be reduced in size by removing the enamel with the dental drill. They also have a tendency to retain plaque, the main cause of gum disease.
That leaves the last, and least favorable, option, a removable partial denture. They may also trap food and be difficult to wear. They can move in the mouth, stressing — and possibly loosening — the remaining teeth that hold them in place. With all its drawbacks, though, if a partial denture is the only solution to missing back teeth, it's a better alternative than doing nothing and risking long-term problems.
If you would like more information on replacement options for back teeth, please contact us or schedule an appointment for a consultation. You can also learn more about this topic by reading the Dear Doctor magazine article "Replacing Back Teeth."
By Jeffrey J. Kraig, DDS, SC
November 11, 2014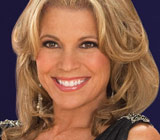 Everyone knows Vanna White as the elegant co-host of the popular game show Wheel of Fortune. But here's one thing you may not know: White is listed in the Guinness Book of World Records as television's most frequent clapper, with an average of 720 claps per show — that's over 28,000 per season! And here's something else: the star with the megawatt smile wore braces as a kid, and she's not too shy to talk about it.
"I only had to wear them for a year and it was a good experience for me," she told an interviewer for Dear Doctor magazine. But when it was time for her son to get them, White noticed something different. "We used to have those silver bands that went all the way around each tooth, and they don't have that anymore. It is fascinating to see how far they have come."
We're glad she noticed! In fact, orthodontic appliances have advanced a good deal in the past decade or so. Instead of using metal bands, brackets holding the wire part of braces are now typically attached directly to the teeth with a dental adhesive. For an even less obtrusive look, ask about using colorless brackets instead of metal ones — that way, the only part that's clearly visible is the thin wire itself. And in some situations, braces can be placed on the lingual (tongue) side of the teeth, making them all but invisible.
Another type of nearly invisible appliance is the clear orthodontic aligner. The aligner system consists of a series of precision-made transparent "trays" that fit over the teeth. Each tray is worn for a few weeks, and each moves your teeth by a small amount; together, they can help correct mild to moderate orthodontic problems. And the best part — they're really hard to notice! That makes them perfect for both adults concerned about a "professional" look, and image-conscious teens.
So if you're a TV star — or if you'd just like to have a brighter and better smile — it's never too late to get started! If you would like more information about orthodontics, please contact us for a consultation. You can learn more in the Dear Doctor magazine articles "The Magic of Orthodontics" and "Clear Orthodontic Aligners."